TÜMSİAD met with Estonian Trade Delegation to Develop Business Opportunities
04 Mar 2022

"TO DO BUSINESS WITH TURKS IS VERY EASY"


All Industrialists' and Businessmen's Association (TÜMSİAD), which has carried out important works for Turkey to play an active role in the commercial sense in its region and on a global scale, hosted the Estonian Trade Delegation. Within the scope of the 'Estonian Business Forum' held at the headquarters of the association; Business people from many different fields, from construction to textiles, from energy to food, exchanged information by making face-to-face meetings (B2B) in order to strengthen the commercial ties between the two countries.
All Industrialists and Businessmen Association, which continues its activities intensively all over the world from Asia to Europe, from Africa to America, continues its activities without slowing down. TÜMSİAD, which pioneered the establishment of trade networks between countries, hosted the Estonian trade delegation. After the opening speeches of the 'Estonian Business Forum' held at the headquarters of the association in Levent, B2B meetings between the business people of the two countries continued, and the business opportunities in both countries were discussed. In the program; TÜMSİAD President Yaşar Doğan, members and a group of business people from Estonia took part.

High Trade Potential Between The Two Countries
Underlining that the commercial potential between the two countries is very suitable for growth, TÜMSİAD Chairman Yaşar Doğan said, "The point Estonia has reached in terms of technology, being a member of the EU and Turkey's dynamic and productive structure in the world markets, its increasing impact on the world markets offers important commercial opportunities for both countries. offers. With the cooperation to be made, it will offer the opportunity to open up to new markets effectively. We are ready to use all our means to strengthen economic relations. As an association, we are not only concerned with the growth potential of the business world. We are working to make our moral values, which are the legacy of our ancient culture, dominant in the business world. We will continue to contribute to our country and nation by weaving new commercial networks with these values."

"Turkish Business People are Intelligent and Honest"
Saying that it is very easy to do business with Turkish business people when you find the right person, Turkey Tartu Honorary Consul Eva Pedjak said, "Turks are flexible, intelligent and honest people. Our main item of import-export with Turkey is based on the iron and steel industry. I believe that with such programs and negotiations, there will be developments in other sectors between the two countries," he said.
Stating that there are many advantages of investing in Estonia for Turkish business people, Estonian Business and Innovation Agency Representative Egert Anslan said, "There is a corporate tax and a trained workforce in Estonia. Development Agency provides support to investors. Especially they provide e-session service for everyone. With this service, they can integrate into Estonia's digital infrastructure and manage their business from wherever they are."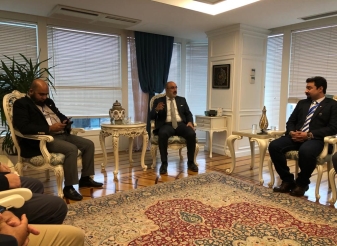 Our Members Met with FaisalAbad Chamber of Commerce Delegation
We hosted the delegation of Faisal Abad, one of Pakistan's important chambers of commerce and industry, at our Headquarters.